As revealed in a Guardian story, Newars are the people who claim Nepal as theirs. Indeed, Newar and Nepal link back to the same word origin. They represent unique culture, lavish cuisine, and distinct architecture. Recently, I took a tour of a Newari kitchen in Kathmandu, treating myself to a range of dishes.
Despite my previous visits to Newari kitchen, the one in Kirtipur endowed me with a whole new experience as its design exuded the look and feel of a Newari home. On top of that, the gamut of Newari dishes is brilliantly presented under one roof.
Newari cuisine, featuring culinary delights of over 200 dishes, has been developed for more than ten decades by the Newars of the Kathmandu valley. Like many Asian civilizations, the Newari people attach high importance to food. Here comes the Newar way of life, revolving around food. The Newars are known for their lavish eating traditions as well. Some of their festivals are even themed on food.
In my experience, Newari cuisine is one of the best in the world and should be served in worldwide restaurants. Since food is an important aspect of any culture's identity. While traveling to Nepal, I was fortunate enough to experience different cultural cuisines like Gurung and Tibetan traditional dishes, along with a few other different dishes from different cultural groups. But this time I experienced a place called Sasa, which is thirty minutes away from Thamel, inside the Kirtipur area.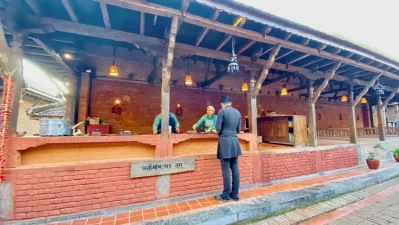 It took us more than 35 minutes from Thamel to Sasa by private transport. That place is almost at the end of the locality where scenic mountain ranges and spectacular hills are also clearly visible. Sasa features a gigantic gate looking like that of a king's palace. In the entrance area, there are two people dressed as traditional Newari. Gave me a tour of the entire kitchen. Upon getting inside Sasa, I started feeling that I was walking inside a traditional Newari village, which can be considered a really big kitchen plus restaurant. They made the entire infrastructure like a Newari old-fashioned home.
The waiters from sasa donned traditional beautiful Newari wears. A beautiful Newari woman welcomed me in an open wooden house. There would be more than 10 multistoried wooden structures for guests. There is no table or any sort of sitting arrangement. Rather, everyone must sit on the floor with a traditional Newari mat.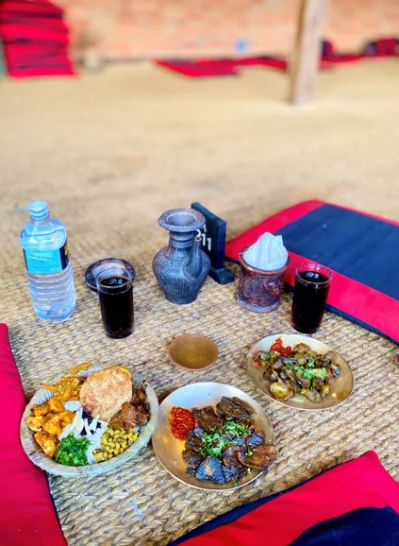 A woman came with chyang which is a Newari traditional drink required for Newari rituals and social gatherings. It is also regarded as shagun (lucky) and celebrated with special utensils such as anti (a metal jar with a long narrow nose) and salincha (a little clay bowl). A beautiful aroma came out of the chyang along with bubbles. There are a plethora of appetizers to choose from on this highly comprehensive menu. It was hard to decide which one to try first. So, without a second thought, we ordered a starter Samay baji set, (gizzard fry). In the main course, we picked three options: mixed chatamari, tongue fry (mye), and Nhyapu & Bara. Overall, the food at Sasa provides a pleasant meal with a variety of the familiar flavors along with the new. There is also a beautiful yard with a Newari house where traditional music was played during the evening.
Taking into account, If you're in Kathmandu or just visiting, I urge you to eat at Sasa. You will find their food and surroundings adorably inviting.