Shah Rukh Khan's son Aryan Khan is preparing for his Bollywood debut. While his sister Suhana Khan is also reported to be making her debut as an actor in Zoya Akhtar's upcoming film, Aryan will be marking his debut not as an actor but as a writer in Bollywood.
It is being said that Aryan is not very keen on facing the camera and wants to pursue his career towards the creative side of filmmaking.
Aryan already made his public appearance alongside sister Suhana Khan during the IPL auctions recently, and it looks like that was just the start of things for him.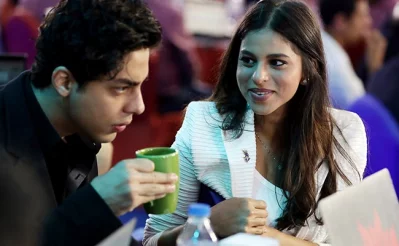 According to a Pinkvilla source, Aryan has been working on multiple ideas that have the potential of becoming feature films and web series. Of the many ideas, there have been two plot lines that have been picked — one being a web series for Amazon Prime while another is a film backed by Khan-home production Red Chillies Entertainment. He is said to be working on these with co-writer Bilal Siddiqi, of The Bard of Blood fame.
"The Amazon Prime series is said to be about the life of a die-hard fan with some elements of thrill, however, the details of feature films are not known yet. If everything proceeds at the right pace, there's a strong possibility of the show being greenlit by the platform this year itself," the source revealed. The report added that the ideas are still in the primitive stage and only when the streaming platform gives a green light will the series be developed further on.