Queen Elizabeth II held two virtual audiences on Tuesday from Windsor Castle, marking her first engagement since it was announced that Prince Charles and Camilla, Duchess of Cornwall, have tested positive for COVID.
Concerns have mounted for the 95-year-old monarch's health since she tested positive on February 20, overshadowing the start of her record-breaking 70th year on the throne.
But a palace statement indicated she was now well enough to hold engagements, hosting the new ambassadors of Andorra and Chad from her home at Windsor Castle.
The 95-year-old British monarch last week cancelled similar scheduled engagements with new ambassadors as she was suffering from what were described as "mild" Covid symptoms.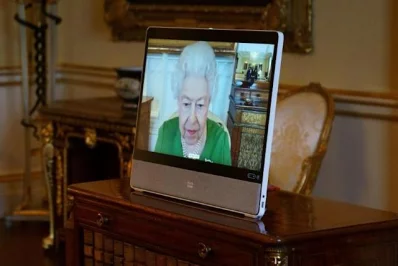 After postponing several virtual events due to her illness, the 95-year-old British monarch was present at two virtual gatherings, where she dialed in from Windsor Castle. On the virtual calls with her were ambassadors of Andorra, Carles Jordan Madero, and Chad, Kedella Younous Hamidi, as well as Soraia Maria Valls Pinilla.
Elizabeth was seen in green dress looking to be in good spirits for the occasion.
She was carrying on with "light duties" amid her COVID battle. Last week, the queen did have her weekly call with United Kingdom Prime Minister Boris Johnson. The conversation usually would have been held in-person, but due to the queen's positive COVID test, the two spoke over the phone.
Queen Elizabeth also postponed a diplomatic reception planned to take place Wednesday at Windsor Castle due to the ongoing conflict between Ukraine and Russia.