Shane Warne, one of the greatest cricket players in the history of the sport, has died aged 52.
The man known as Warnie who was dreaded by a generation of batters for nearly over 10 years from the 90s, died in Koh Samui, Thailand, of a suspected heart attack, Australian media reported.
Warne's management released the statement of his death on Friday evening IST that he had died.
"Shane was found unresponsive in his villa and despite the best efforts of medical staff, he could not be revived," read the statement. "The family requests privacy at this time and will provide further details in due course."
The spin bowler was part of Australia's World Cup winning team in 1999 as well as the linchpin of the side that became the sport's dominant force in the late 1990s and 2000s. Wisden, the respected cricket almanack, rated him among the five greatest cricketers of the 20th century.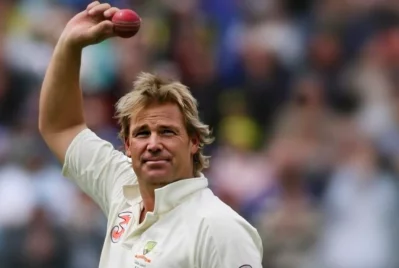 Warne's first delivery in his Ashes debut, a Test match series between England and Australia, became a potent symbol of the illustrious career to come. Warne delivered a ball that spun sharply, bamboozling English batsman Mike Gatting.
Warne went on to claim roughly 700 more wickets over a 15-year career in Test matches, second only to the Sri Lankan great Muttiah Muralitharan. He is credited with reviving leg spin, a technique designed to make a cricket ball move unpredictably to catch out the batsman.
An exuberant personality on the cricket field, he was also known as a charismatic presence off it, and spent his post-playing career as a television commentator with Fox in Australia and Sky in the UK.
Born in Melbourne in September 1969, Warne played for his home state of Victoria and later joined Hampshire county cricket team in England. His first Test match was in 1992 against India.
Tributes have poured in from across the sport. Adam Gilchrist, a former teammate, posted a series of broken heart emojis on Twitter, while West Indies batsman Brian Lara called Warne "one of the greatest sportsmen of all time".
Ben Stokes, the England cricketer, said it had been an "honour" to know and work with Warne, whom he described as a "legend".
India's Sachin Tendulkar, the leading run scorer in Test matches, said he was "shocked, stunned and miserable" about the news, tweeting a photograph of himself with Warne.
"Will miss you Warnie," said Tendulkar. "There was never a dull moment with you around, on or off the field. Will always treasure our on-field duels and off-field banter. You always had a special place for India and Indians had a special place for you."
Warne stopped playing international cricket after the 2007 Ashes, after Australia's 5-0 defeat of England in the series.