Bollywood's King Shah Rukh Khan is all set to make his smashing comeback to movies after four years with the upcoming action thriller Pathaan. Directed by Siddharth Anand, the movie will reunite Shah Rukh with Deepika Padukone and fans just can't wait to see this pair once again spelling their magic on the silver screen. Shah Rukh along with the other cast is currently in Spain shooting for the final leg of the film.
New photos of Shah Rukh were released Tuesday from the shooting of 'Pathaan' in Spain. The viral images show King Khan in his shirtless glory, showing off his toned abs. He can be seen with a beam over him.
SRK's fans have shown great appreciation for his new look.
"So hot. SRK on fire," a netizen observed.
"Damnnn. One wrote: "Can't take my eyes away from him."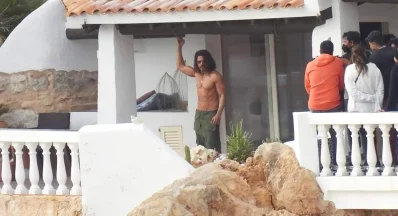 "Pathaan" will be Shah Rukh's return to cinemas after nearly four years. John Abraham will also be a part the film.
SRK gained a lot of attention for his toned body and six pack abs that he can be seen flaunting in those shirtless pics.
Pathan is set to release on January next year. The 'Zero' actor took to his social media handle a few days ago to share a teaser of the movie.