A memorandum of understanding has been signed between The Daily Ittefaq and the National Newspaper Olympiad (NNO). According to the agreement, Daily Ittefaq will be in the role of the organizer of the competition titled 'In search of the best newspaper readers' at the national level from now on.
On Thursday (March 31) afternoon at the Majida Begum Auditorium of Ittefaq Bhaban in Kawranbazar, the representatives of the two organizations discussed in detail the overall issues and future work plan of the Olympiad.
Reead Khandaker, Assistant Editor of Ittefaq, signed the agreement on behalf of Tareen Hossain, publisher of Daily Ittefaq. Ayman Sabit, Head of Events, signed the agreement on behalf of Labby Ahsan, Founder & President of Newspaper Olympiad.
Ittefaq Online's Head of Digital Marketing Sharafat Hossain, Ittefaq's Sub-Editor Syed Tawsif Munawar, and Digital Marketing Executive Safayet Ahamed were present. Shafkat Zahir, Fahim Muntasir, Dolon Binti and Mumtahina Moumita were present on behalf of the Newspaper Olympiad.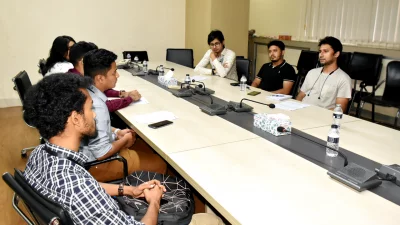 Representatives of NNO expressed hope that it would be possible to organize the Olympiad on a larger and wider scale through a memorandum of understanding with Ittefaq, the traditional and oldest newspaper of Bangladesh.
Newspaper Olympiad started its journey on 18 October 2016 to increase the habit of regular newspaper reading among children and youth. The organization organizes competitions in different formats to find 'Desh Shera Patrika Bisharad', where numerous contestants from all over the country take part. Besides, the organization is conducting various creative activities including media summits, regular workshops, writing competitions. In a short span of time, about three thousand school-college students from different parts of the country have joined NNO as members.
Daily Ittefaq will be the organizer of the third season of the National Newspaper Olympiad. Volunteer members of the Newspaper Olympiad will co-organize the event. The primary round of the competition will be held in 64 districts of the country. The national level will be held with the participation of local level winners. Not only students but also people of any age can take part in it.