Brooklyn-based Pakistani vocalist Arooj Aftab on Sunday scored her first Grammy, winning a prestigious trophy for her song Mohabbat in the Best Global Performance category.
The 37-year-old crooner who has lived in New York for some a decade and a half has been steadily gaining global attention for her work that fuses ancient Sufi traditions with inflections of folk, jazz, and minimalism.
In her acceptance speech, she said, "I think I'm gonna faint. Wow, thank you so much. I feel like this category in and of itself has been so insane. Burna Boy, Wizkid, Femi Kuti, Angélique Kidjo-should this be called Best World Music Performance? I feel like it should be called 'yacht party category.' But, anyway, thank you so much to everyone who helped me make this record, all my incredible collaborators, for following me and making this music I made about everything that broke me and put me back together. Thank you for listening to it and making it yours." After winning the award she told journalists backstage, "I am beyond thrilled. It feels great. I've been very nervous all day. And we're off to a good start."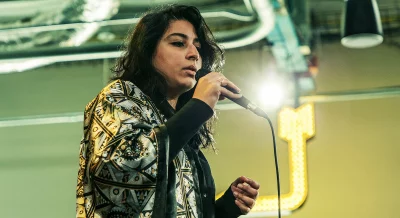 Aftab moved to the US in 2005 to study music at the Berklee College of Music. She released her first album 'Bird Under Water' in 2014.
Born to Pakistani parents in Saudi Arabia, Aftab spent her teenage years in Lahore before relocating to Boston's prestigious Berklee School of Music to study musical production and engineering.
She released her third studio album "Vulture Prince" to critical acclaim, and gained even more attention after former US president Barack Obama included the track "Mohabbat" on his 2021 summer favorites list.
Aftab was also nominated in the Best New Artist category this year, which went to Olivia Rodrigo.