Naomi Biden, the eldest granddaughter of President Joe Biden and First Lady Jill Biden, will hold their wedding reception at the White House. This is the first time the executive mansion has hosted a wedding reception for a member of the presidential family in 14 years .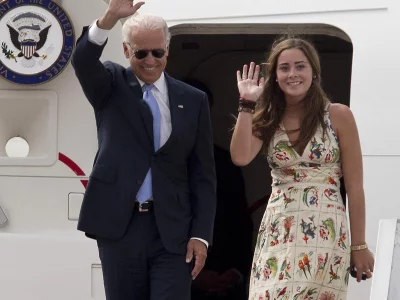 "The President and First Lady will host the wedding reception for their granddaughter Naomi Biden and her fiancée Peter Neal at the White House on November 19, 2022," Elizabeth Alexander, the first lady's communications director, said in a statement.
"The First Family, the couple, and their parents are still in the planning stages of all of the wedding festivities and look forward to announcing further details in the coming months," Alexander added.
Naomi thanks her grandparents impressive tweet Monday.
"Peter and I are endlessly grateful to my maternal grandfather and Pop for the opportunity to celebrate our wedding at the White House. We can't wait for more of what lies ahead to make our commitment to each other official."
Naomi, a 28-year-old attorney in Washington, DC, is engaged to Peter Neal, a law student. She is the daughter of the Bidens' son, Hunter Biden and Kathleen Buhle.
Her fiancé, Peter Neal, is a 24-year-old law student at the University of Pennsylvania hailing from Jackson Hole, Wyoming.
According to CNN, the two got engaged in September 2021 near Neal's childhood home in Wyoming.