Bollywood actress Sonam Kapoor and Anand Ahuja's New Delhi home has reportedly been robbed in which cash and jewellery worth Rs 1.41 crore was taken. The investigations are underway at their residence located at Delhi's Amrita Shergill Marg, where Anand's parents Harish Ahuja, and Priya Ahuja live with his grandmother Sarla Ahuja.
Sonam's mother-in-law Priya Ahuja lodged a complaint on February 23 at the Tughlaq Road police station claiming that she got to know of the theft on February 11 when she checked her cupboards for her belongings. She had last checked the cash and jewellery back in 2020.
According to police officers, there are about 25 servants and 9 caretakers in the house. Everyone is being questioned, but so far the defendant has no leads. In such a situation, the police are thinking of taking the help of forensic science. The police have launched an investigation by registering a case (FIR No. 41/22) on Ritesh Gaura's complaint. Police are now examining a year's worth of CCTV footage. Many policemen from the Tughlaq Road Police Station are actively looking into the matter. Sonam Kapoor's husband, Anand Ahuja, lives in California with his uncle Sunil. He comes and goes often. The victim's family is owned by the clothing company Sai Exports.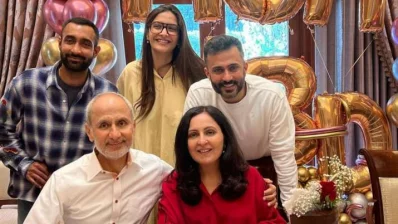 For quite some time, the case was kept under wraps as it was high profile and also for the reason that the ongoing investigation has not yet nabbed any culprits. Following the robbery, no official statements have also been issued by any of the members of Anand or Sonam's family.
Earlier, the Ahuja family had reported falling prey to fraud and suffered a huge loss. It was claimed that Sonam's father-in-law Harish got duped of Rs 27 crore. Reportedly, 10 people were also arrested in that matter.