The popular Bollywood duo Ranbir Kapoor and Alia Bhatt's wedding is one of the most awaited ones. While there is no official announcement from either of the families so far, reports claim that the duo is likely to tie the knot on April 14.
Amid all the wedding rumours, Ranbir Kapoor is currently staying in Goregaon due to work-related commitments. As reported by Pinkvilla, Ranbir is currently shooting for filmmaker Luv Ranjan's next movie which also stars Shraddha Kapoor in the lead. Reportedly, as Ranbir is away at work, Neetu Kapoor and Alia are handling all wedding preparations.
Earlier, Alia's half-brother Rahul Bhatt confirmed that the much-awaited wedding is finally happening. Without sharing any details, Rahul mentioned that he has been invited to the wedding.
Ranbir's mother and veteran actress Neetu Kapoor has invited special chefs from Delhi and Lucknow for her son's wedding. The source cited by the report claims that there will be over 50 counters of lavish food from different cuisine including Italian, Mexican, Punjabi, and Afghani. Reportedly, there will be a separate counter of Delhi chat. Even, there will be vegan food for bride-to-be Alia.
Ranbir and Alia started dating back in 2017 when they met on the sets of Brahmastra. They made their relationship official in May 2018 when they arrived together at the wedding reception of actor Sonam Kapoor.
Ranbir 's close friend and filmmaker Ayan Mukerji shared today big-scale mythological-fantasy Brahmastra's Love Poster featuring Ranbir Kapoor and Alia Bhatt. Also, Ayan attached a small portion of Brahmastra's song Kesariya by Arijit Singh and Pritam to the poster.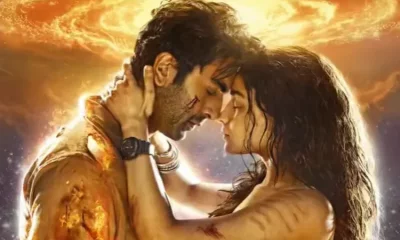 Ayan dropped in a hint at Ranbir and Alia's wedding. His caption read, "So here it is, our Love Poster! The Time feels Right for it…There is some extra love in the air these days! :)" He also wrote, "'Love is the Light!' Part One: Shiva… is what this first chapter of Brahmstra is now called. But for the longest time, it used to be…Part One: Love. Because at its core, Brahmstra is about the Energy of Love. A Love - that spread like Fire, beyond the Movie, and into Life."