The British royal family is celebrating Queen Elizabeth's birthday today (April 21). Although it is formally celebrated on the second Saturday in June with Trooping the Colour, this spring date is still a special occasion for the Windsor family.
The occasion is marked publicly via gun salutes in central London at midday. There is a 21-gun salute in Windsor Great Park, a 41-gun salute in Hyde Park, and a 62-gun salute at the Tower of London.
To celebrate Queen Elizabeth's 96th birthday, the Royal Windsor Horse Show has released a new photo of the British monarch celebrating her lifelong love of horses. In the portrait, which was taken just last month by photographer Henry Dallal, the Queen stands beside two of her fell ponies, Bybeck Katie and Bybeck Nightingale.
The date of the queen's second birthday celebration is not set in stone like her official date of birth is. Originally, it was scheduled for the second Thursday of June, the same day as her father's official birthday, King George VI. In 1959, she changed it to the second Saturday in June.
She is wearing a shade of deep green, known as "Edinburgh green," that has special meaning—it was the color of Prince Philip's livery and used in many official capacities relating to his position. Many members of the royal family, including Queen Elizabeth, wore the color to his memorial service at Westminster Abbey last month, and here it's a stark contrast to the ponies' white coats.
This is the fourth in a series of images of the Queen officially released by the Royal Windsor Horse Show—the first three were released to celebrate her Golden Jubilee, Platinum Jubilee, and 90th Birthday. The Show has been held annually since 1943, and the Queen has attended every year. At the 2022 Show, which is set to begin May 12, she has entered a record-breaking 41 horses in competition.
She attended a service at St George's Chapel along with Prince William, Kate Middleton (who recycled an Alexander McQueen ensemble), Princess Beatrice, and other members of the royal family. Two young boys presented the monarch with a bouquet of spring flowers; she smiled wide in return. When she left the service, cameras captured the crowd singing "Happy Birthday."
The monarch is being honoured with a Barbie doll in her likeness to mark her Platinum Jubilee this year. Toy maker Mattel said on Thursday it was commemorating the monarch's 70 years on the throne with a Tribute Collection Barbie doll.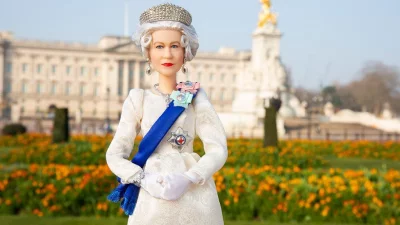 Dressed in an ivory gown with a blue sash adorned with miniature medallions and ribbons, the figure also has a tiara based on the one Elizabeth wore on her wedding day. The doll will be sold at Harrods, Hamley's, Selfridges, John Lewis and on Amazon.