Bollywood actress and Shatrugan Sinha's daughter Sonakshi Sinha has hit the headlines with a surprising revelation about her relationship status. The actress took to her Instagram and shared a picture while flaunting 'ring' on her hand.
Sonakshi shared a post where she could be seen holding a guy's hand as she shyly laughs and flaunts her ring. She captioned the post, "BIG day for me!!! One of my biggest dreams is coming truuuue… and i cant wait to share it with YOUUUU Cant believe it was SO EZI!!!!"
Her post sparked engagement rumours with curious fans commenting below the pictures. One of the followers of the actor asked, " Are u getting married?". Another user guessed the other person in the picture and wrote, " It's @iamzahero, look at his some of the posts with dark t-shirts. The black watch is the same that he is wearing. Congrats to both of you ." A third user chimed in and wrote, " Shaadi hone wali h." Another echoed similar sentiments and wrote, "I AM GOING TO DIE IN SUSPENSE PLEASE PLEASE SHOW US HIS FACE."
Several fans and Bollywood celebs including Tanisha Mukerji, Ananya Birla and others have commented on her post with hearty congratulations.
Bollywood actors Zaheer Iqbal and Sonakshi Sinha have been linked for quite some time. Sonakshi made her movie debut with Dabangg in 2010, while Zaheer made his with Notebook.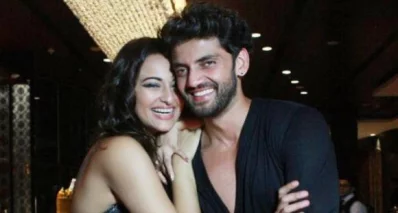 Zaheer Ratans is his real name and he is from an upper-class jeweller family. His father's name is Iqbal Ratnasi is a dear friend of Salman Khan. He started as an assistant director for Jai Ho (2014).
In December, the actress was also seen wishing Zaheer on his birthday by posting a cute picture of them and writing a special note. But the couple denied the rumours of them being together.
Sonakshi was last seen in Ajay Devgn-starrer 'Bhuj: The Pride Of India'. The film also features Sanjay Dutt and Nora Fatehi.
The actress is all set to make her web series debut with 'Fallen', where she plays a cop and will also be seen in 'Bulbul Tarang'.