'Collaborative content' is the latest trend on social networks. Snapchat introduces a new 'Shared Stories' option which enables users to invite other Snapchatters to contribute to their Story with their own takes and insights.
Instagram already lets users publish common content across two accounts. Snapchat users can now allow their friends to add content to their own respective Story, leading to a combination of content that can help boost engagement on Snapchat. When you create a Shared Story, you'll be able to choose people who will be able to contribute with their own Snap additions. The Story will then be viewable by your connections and theirs, providing expanded exposure potential, while also enabling a new type of collaboration within your Snap content.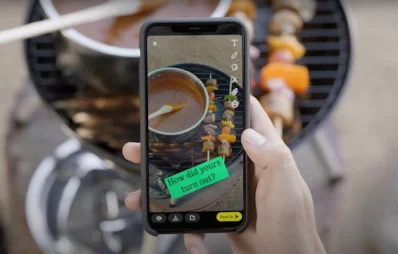 The operation of the Shared Stories feature is quite simple. Like any other story shared on Snapchat, shared stories disappear after 24 hours. What changes here is that you can select friends who can complete this story with even more photos or videos, and those friends can also invite others to do the same.
For example, you can invite your friends to create shared stories of a party. These friends can also add new stories which will appear alongside the original, and their friends will also have this option if they are invited. This way, everyone can collaborate to create a memory of this event.
Snapchat says content added to Custom Stories is "carefully moderated" using a combination of automatic language detection and other tools to keep Stories "safe and fun". Users will also be notified when they join personalized stories with accounts they have blocked.
The Shared Stories feature is now rolling out to Snapchat users on iOS and Android. Make sure you have the latest version of the app installed to access new features.