Today is the birthday of celebrated singer, guitarist, and composer Faruq Mahfuz Anam popularly known as 'Nagar Baul James' and 'Guru'. He turned 58.
Born on October 2, 1964 in Naogaon and raised in Rajshahi and Chittagong. His father was a government employee who was later appointed as the Chairman of the Chittagong Education Board.
James was involved in music from a very young age, and he started his career in music. He first played guitar with his friends when he was in class seven in 1973.
Without the support of his family, James started his journey in music in his youth during the late 70's. He formed his band Feelings in 1977 as the vocal and lead guitarist, and released the band's first album Station Road in 1987. The band was later renamed as 'Nagar Baul'.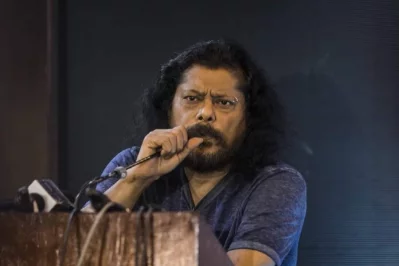 James started living in a dormitory called Aziz Boarding in Chittagong. This is the place his musical career kickstarted and flourished after he met the musicians from the band 'Feelings'. He is the lead singer, songwriter and guitarist of the rock band "Feelings" (now known as Nagar Baul). Since then there has been no looking back for him, and he has successfully carved a niche for himself in the industry.
In 2006, James debuted in Bollywood as a playback singer in Anurag Basu's film 'Gangstar', and his journey in Bollywood was continued with three other films - 'Woh Lamhe' (2006), 'Life... in a Metro' (2007) and 'Warning' (2013).
James received Bangladesh National Film Award for Best Male Playback Singer twice for the films 'Desha: The Leader' (2014) and 'Swatta' (2017).
Fans around the nation celebrated the day with pouring tribute to their beloved singer.
Over the years, the versatile singer has given the music industry and music buffs many soulful songs that remain afresh in the hearts of fans. From Taray Taray Rotiye Debo' (penned by legendary poet Shamsur Rahman), 'Maa', 'Bangladesh', 'Pagla Hawaa', 'Dushtu Chheler Dol', 'Guru Ghor Banaila Ki Diya' and 'Mirabai' the melodies stay in our hearts rent-free.