Popular actress Zakia Bari Momo is loved by her fans for the versatile acting in drama, cinema and OTT. Fans of the actress are eagerly waiting more from her. Now, she will enthrall her viewers as she has played the role of Goddess Durga in an OTT.
Although Momo acted as the Dashbhuja form of the goddess, the main objective of the portfolio is to highlight the ten aspects of women including the freedom, power and beauty of the women.
Durga Puja has begun. Momo has also taken part in the celebration of the festival. The recently completed special 'portfolio' will be released on the internet on October 3, the day of Ashtami, where Momo will be seen in ten different characters of woman.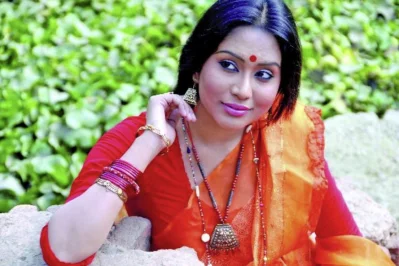 Profile Talent is presenting the OTT directed by Yashir Al Haque as creative director. Rubama Fairuz is on styling and Bhaskar Sam is doing cinematography.
Momo told the media that she has played double roles in dramas several times. But this time she has done ten characters together.
"Any festival, either Eid or Puja, is actually for everyone. We celebrate the festivals in many ways. We want people to look at women in a more positive way on social media. Women can also conquer the world if they are given the opportunity and courage," she added.