India secured a win against Pakistan in a thrilling T20 match of the World Cup tourney in Melbourne on Sunday (October 23). It was the 16th match of Group 2 (N), where the two stalwart cricket nations faced each other.
Pakistan batted first and set a target of 160 in 20 overs. It was solely Indian batter Virat Kohli as he scored a brilliant 82 not out of just 53 balls under pressure. He became the Player of the Match.
Once, India looked very helpless as they were 45 for 4 after 10 overs. The rest of the 115 runs were made in the later part of the game.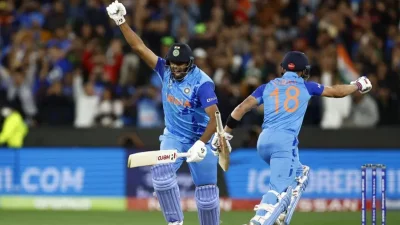 India smiled finally as they won the dramatic match by 4 wickets.
Immediately after the match, Virat Kohli said: "I have no words, no idea how that happened. I just kept believing and staying there until the end. I am honestly just lost for words."
"I think when Shaheen [Shah Afridi] bowled from the pavilion end we talked about taking him down. Then I knew if I took Haris Rauf down they would have to bowl Mohammad Nawaz again at the end.
"I just feel like this was meant to be. It was a special moment. Was it my best T20 innings? Until today I said at Mohali versus Australia was my best innings but I think today was one higher, given the magnitude of the game. It seemed impossible."
"Thanks to the fans. These past few months I have struggled and you kept backing me."