The southern Indian superstar Samantha Ruth Prabhu recently revealed her health condition to her fans and industry colleagues that she has been diagnosed with myositis, an auto-immune condition. The actress broke her silence on her health update via her latest social media post on October 29.
Sharing a picture of herself from hospital with an IV drip on her hand, she can be seen watching Yashoda trailer and made a heart emoji using her hands for her fans.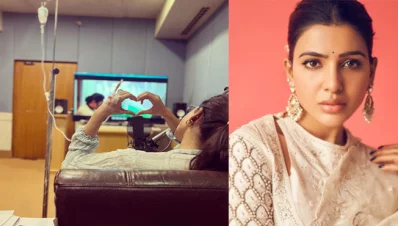 The actress confirmed that the condition was detected a few months back. She has also assured her fans that she is on road to a more stable self, with proper treatment.
In her post, Samantha wrote, "A few months back I was diagnosed with an autoimmune condition called Myositis. I was hoping to share this after it had gone into remission. But it is taking a little longer than I hoped. I am slowly realising that we don't always need to put up a strong front."
"Accepting this vulnerability is something that I am still struggling with. The doctors are confident that I will make a complete recovery very soon. I have had good days and bad days…. physically and emotionally…. and even when it feels like I can't handle one more day of this, somehow that moment passes. I guess it can only mean that I am one more day closer to recovery," she added.