The triennial conference has been recently held by Germany Awami League in Germany.
Textiles and Jute Minister Golam Dastagir Gazi and Fisheries and Livestock Minister S M Rezaul Karim were connected in the conference virtually.
All European Awami League President M Nazrul Islam said, "We want to build unity considering the development of Bangladesh under the leadership of Prime Minister Sheikh Hasina and the ideal of the Father of the Nation Bangabandhu Sheikh Mujibur Rahman."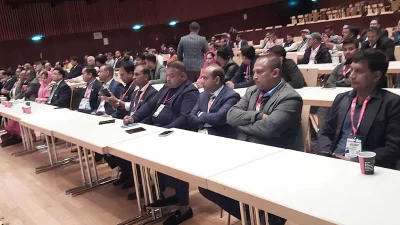 Germany Awami League President Bashirul Alam Choudhury Sabu said, "We have done the conference after three years." He also sought apologies for any inconvenience or mistake during this time.
Advisor of Germany Awami league Freedom Fighter Masum Mia said, "As a Freedom Fighter, I am requesting you all to follow the ideals of Bangabandhu Sheikh Mujibur Rahman. We should give equal value and importance to all the activists of Awami League."
The leaders and activists of Germany Awami League joined the conference spontaneously.