The Bangladesh Cricket Board (BCB) would talk about the India's fake fielding in the crucial T20 World Cup game against Tigers on November 2 in the proper forum, said its cricket operations chairman Jalal Younus.
Following the five-run loss to India, Bangladesh claimed that India's Virat Kohli did a 'fake fielding' which the on field umpires-Marais Erasmus and Chris Brown-didn't notice, reports BSS.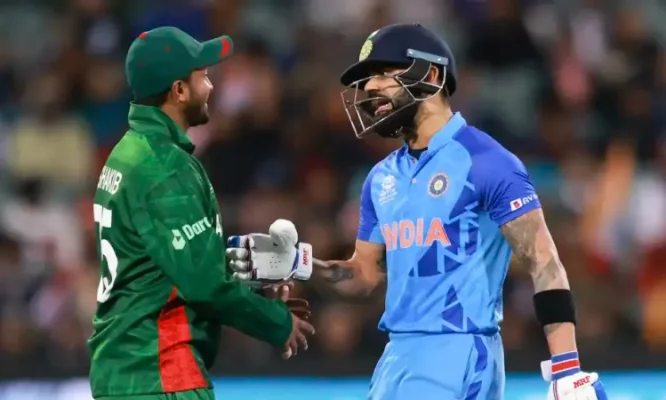 "You all have seen the incident on the television. There are two incidents in fact and one was about fake throw," Younus said on November 3.
"We had brought the fake throw issue to the umpires but they said they hadn't noticed it. And therefore they didn't review the incident. At the halfway stage of the game, Shakib talked about this issue to the umpires.
It's not the school that you will complain about everything. But still we have considered the issue and we'll try to raise it in the proper forum," he said.
According to the cricket's law, it could have resulted in five potentially crucial penalty runs for Bangladesh. The incident took place in the seventh over of Bangladesh's chase at Adelaide Oval, when Liton Das played the ball towards the deep off-side field off Axar Patel.
Kohli stood at point made an artificial move when Arshdeep Singh threw the ball in a bid to break the stump. The video of the incident later went viral, sparking a social media war between the fans of the two countries.
Bangladesh wicket-keeper batter Nurul Hasan Sohan later raised the issue after the match, saying that "We all saw that it was wet ground. Eventually, when we talk about these things, there was also a fake throw. It could have been a five-run penalty. That also could have gone our way, but unfortunately, even that didn't materialise."
According to Law 41.5 of ICC, pertaining to unfair play, prohibits the "deliberate distraction, deception or obstruction of [the] batter", and if an incident is deemed to be a breach, the umpire can declare that particular delivery as dead ball, and award the batting side five runs.
While this was a serious issue, Bangladesh captain Shakib Al Hasan also talked to the umpires about wet outfield as he wanted the game to start after ground was properly dried up.
"At the same time, Shakib also talked about wet outfield as he requested umpires to take time to dry the fields but they said match referee and umpire's decision is final. So there was nothing to debate about it. The decision is whether you play or not", said Jalal Yunus.