Never mind the controllables and one-percenters that usually dominate post-match platitudes. Six weeks ago, after England had cruised back into the lead of their topsy-turvy seven-match series in Pakistan, Saqlain Mushtaq was roundly lampooned for suggesting that the "laws of nature" were ruling the fortunes of his team.
And yet, even amid the brickbats, Pakistan's head coach could be forgiven for feeling a little bewildered by the fluctuations he was being expected to oversee, reports espncricinfo.com.
One day prior to collapsing to 28 for 4 in pursuit of an outlandish 212, he had witnessed Babar Azam and Mohammad Rizwan romp to a 200-run target in a single bewitching stand. You cannot teach nor tame such feral genius, let alone legislate against it - on any given night in Karachi, let alone on the most imposing stage of them all.
And so, can there be any better explanation for the ludicrous logic that has brought us to this moment in time? England versus Pakistan, in a World Cup final at the MCG - 30 years and a handful of months since the last staging of this classic encounter, way back at the dawn of the white-ball era in 1992.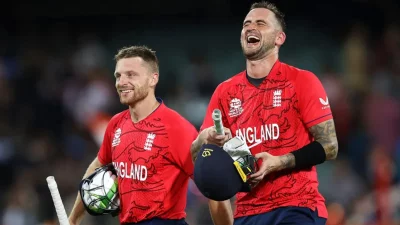 Then, as now, Pakistan's World Cup campaign has been a riot of last-ditchism, with as many incongruous plot twists as a tired old movie franchise - one that's battling to stay relevant in a fast-evolving world, but one that also knows its audience, and knows that nothing puts bums on seats more readily than a warm and familiar nostalgic bath.
Troubling early defeats? Check. Wildly unlikely lifelines to drag the team back from the brink? Check. An outbreak of demented mastery to make fan and foe alike wonder how the team's resolve could ever be doubted? Check.
Only Pakistan could have been so far out of the running that, on this occasion, even Netherlands doing a stunning number on South Africa wasn't enough in itself to get them back on an even keel. Only Pakistan could have lost to their arch-rivals India in such heart-stopping, gut-wrenching circumstances at the MCG, only to find themselves back at the same venue three weeks later with all sins forgiven. If they can now take that final step, we will know that it was written. And who would ever dare to quibble with nature again?
Well, England might, for starters. In their more under-stated fashion, Jos Buttler's men have been on no less a journey at this World Cup - not so much one of self-discovery, as they've been doing that for fun since their own nadir at the 2015 World Cup, but of re-affirmation.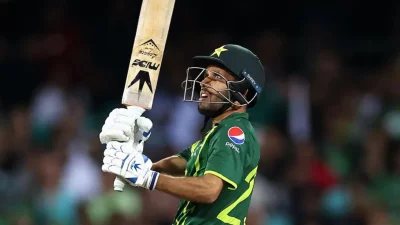 At the mid-point of the group stages, they were the most timorous team in the competition, stacking up the dot-balls and failing to find the boundary - a situation best exemplified by their careless rain-rules loss to Ireland, when a surfeit of good manners with the weather closing in cost them the chance to get ahead of the DLS par score.
Even now, going into the final, no-one in England's middle-order has struck more than one six in the competition - but by way of mitigation, Buttler and Alex Hales racked up ten between them in their ten-wicket saunter against India in Adelaide. That display was at reassuring odds with the anxious grind to victory that Ben Stokes had marshalled in their must-win group game against Sri Lanka. Much like the liberation that occurred against Australia in the 2019 World Cup semi-final, perhaps it was a case of sheer relief at achieving the bare minimum of the team's expectations.
After all, for England's white-ball agenda-setters, this Melbourne match is a date with destiny of a subtly different magnitude. At some point in the next 48 hours, weather permitting, we shall know if England have managed to become the first men's team in history to hold both the 50-over and 20-over World Cups simultaneously, and by dint of that achievement, whether they have conferred on themselves a measure of greatness that a select few teams in history can claim to have achieved.
You can quibble with how such intangibles are measured, but you cannot deny the extent to which this generation of England players has dictated the pace of white-ball cricket since 2015. The team has reached at least the semi-finals in all four global competitions since that fateful winter, and though the personnel has evolved to a degree - including this year's retirement of Eoin Morgan - six members of the side that played in the 2016 World T20 final in Kolkata are likely to front up in Melbourne on Sunday (seven if both Chris Jordan and David Willey get the call).
And for all the inevitable chatter about 1992 in the coming hours and days, perhaps for England, that 2016 experience is the most significant ghost in the machine. Only Stokes knows quite how fundamental that failure was to his never-say-die endeavours in the 2019 final, but Morgan himself has since spoken about how he wished he had slowed the pace down in Kolkata and given his team more room to breathe - a point that he visibly carried into those fraught closing moments of Jofra Archer's Super Over three years later.
The point is, England have been here before, and have the advantage of having lived every imaginable emotion on their previous visits to the big time - not least Buttler, whose run-out of Martin Guptill at Lord's unleashed the very best of them on that unforgettable July day.
The danger for England is that to fail again at the final hurdle - so soon after falling short in the UAE last year - would be a bitter blow to that legacy, seven years of hegemony, and just the one (albeit significant) trophy to show for it.
And yet it was telling, in the moments after the India win, that when Buttler and Morgan were reunited in front of Sky Sports' cameras, the moment amounted to an on-screen passing of the baton.
"There's no advice I can give to this man," Morgan said. "I thought he captained his best-ever game today... so my messaging to anyone who's asking is 'they are just ready'."
Pakistan, by contrast, don't really do 'ready'. But they might just be bang up for it. Because that, as they have endlessly and chaotically demonstrated, is sometimes all they've needed to prove it was in the stars all along.