The content syndication launching announcement of Ittefaq Digital and Deutsche Welle was done with the premium series beyond limits on Sunday.
The first episode of the series will be telecasted on Facebook page and Youtube channel of Ittefaq at 8:00pm on Thursday (November 17).
According to the agreement of the content syndication, there are five videos in this new series. Three videos will be aired consecutively on Tuesday, Thursday, and Sunday. The next two videos will be telecasted on November 22 and 24.
The announcement came at a program at the Majida Begum auditorium in Ittefaq Bhaban on Sunday (November 13) evening.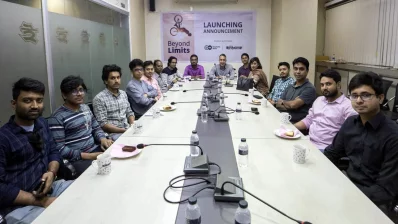 Maximilian Peikert, Distribution Manager of Deutsche Welle's Asian continent, Digital Distribution Coordinator (Bangladesh) Nazia Nusrat Adnin, Reead Khandaker, assistant editor of Ittefaq, Head of Ittefaq Digital Sharafat Hossain, News Editor (Ittefaq Digital) Shantanu Chowdhury, Multimedia In-charge Imran Haque, Sub-Editor of Ittefaq Digital Biplob Mollik, among others were present there.
Maximilian Peikert said, "We are happy to be united with the oldest and traditional newspaper of Bangladesh, Ittefaq. Our journey will be stronger with the sharing of information and experience with each other."
Reead Khandaker, the assistant editor of Ittefaq, said, "Ittefaq Digital will be more enriched by sharing the contents of Deutsche Welle, one of the most renowned media in the world. The skills of the employees of Ittefaq Digital will get a boost after sharing the communications and experience between these two organizations."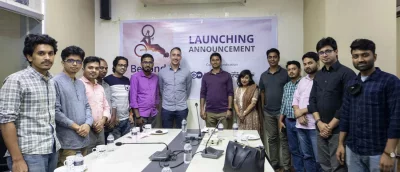 Head of Ittefaq Digital, Sharafat Hossain, said, "Ittefaq has been experimentally using the contents of Deutsche Welle for so many days. We have got a good response from the viewers. The agreement of airing the premium series will add a new dimension to Ittefaq Digital.
Regarding beyond limits, Nazia Nusrat Adnin, said, "This is an exceptional series, where the non-traditional activities are highlighted. Many sensational matters are highlighted here. These contents will draw the attention of viewers."
Greetings gifts were handed over to the representatives of Deutsche Welle from Ittefaq.