Indian tennis star Sania Mirza and Pakistani cricketer Shoaib Malik have been in the news lately after rumours of their alleged separation. As rumours of reported separation mount, Shoaib shared a sweet birthday note on Sania's birthday on November 15.
"Happy Birthday to you @mirzasaniar.. Wishing you a very healthy & happy life! Enjoy the day to the fullest," wrote Shoaib captioning a dreamy photo in which the two sports personalities can be seen looking at each other lovingly.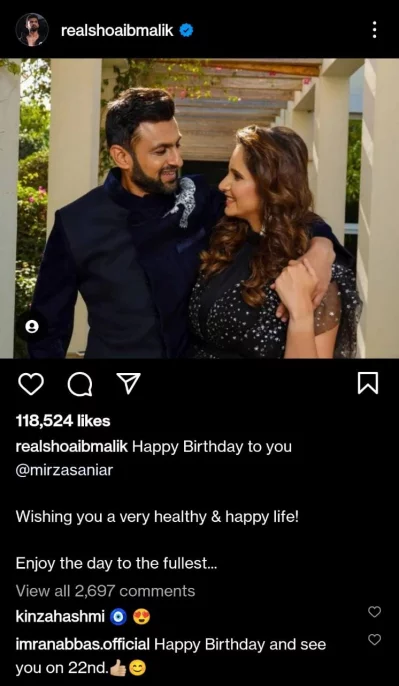 Sania turns 36 on November 15 and will possibly play in her final Grand Slam tournament next year. Sania had planned to retire from tennis at the US Open 2022 but had to miss the Grand Slam with injury.
A few Pakistani News channels have to believed that Pakistani actress and model Ayesha Omar is the alleged reason for their separation. Malik and Ayesha had shot for a bold photoshoot, a few months back for a Pakistani magazine that goes by the name OK Pakistan. Reports say that Sania was not pleased by seeing the pictures of Malik and Ayesha for the shoot.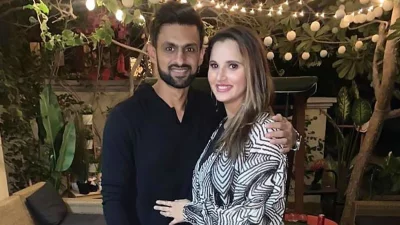 On the other hand, Shoaib and Sania have also been making the headlines as they are set to collaborate for a reality show. The show, which is titled as The Mirza Malik Show, will be premiered on UrduFlix.
Shoaib and Sania, who tied the knot in 2010, were reported by various media houses to have been separated over the past week.
The couple hasn't commented on the rumours yet.