Popular Bangladeshi actress Sarika Subreen filed a case against her husband Badruddin Ahmed Rahi for allegedly torturing her and demanding dowry with Dhaka Metropolitan Magistrate Court on Monday (November 28).
The court took cognizance of the case and issued an arrest warrant against Badruddin Ahmed Rahi.
Magistrate Farah Diba Chhanda of Dhaka's Chief Metropolitan Magistrate (CM) Court passed the order, after recording statements of the complainant, Sarika.
The court also fixed December 21 for submitting arrant execution report, Sarika's lawyer Advocate Masudur Rahman Masud told the Daily Observer on Monday afternoon at the court premises.
The court recorded her statement as complainant and fixed December 21 seeking report of the case.
Sarika got married to Rahi, a textile engineer, on February 2 this year.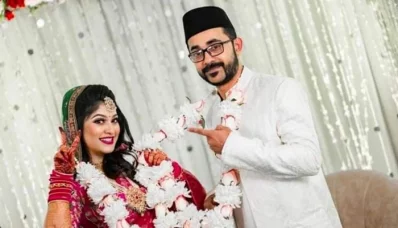 On November 5, accused Badruddin allegedly demanded Tk 50 lakh from Sarika for doing business. Sarika was sent to parents house on December 21 failing to get the money. Rahi said "If Sarika does not give the money, I will divorce her and marry again, said the case."
Accoding to Sarika, she has recently been living with her parents for a few days in the wake of the altercation with her husband.