Several people were injured as leaders and activists of BNP locked into a clash with police personnel in Nayapaltan area of the capital city. The clash occurred at around 3:00pm on Wednesday (December 7).
Leaders and activists of BNP started coming to its headquarters at Nayapaltan from the morning. At one stage, the road was blocked due to the crowd of the BNP men.
Sources said that police personnel tried to disperse the crowd from the road. BNP men threw bricks chips targeting the law enforcers. At one stage, they locked into a clash with police personnel, leaving several people injured.
Some journalists were also injured in the incident. Photo journalist of Daily Ittefaq Shamsul Alam Badshah was also injured and rushed to Dhaka Medical College Hospital.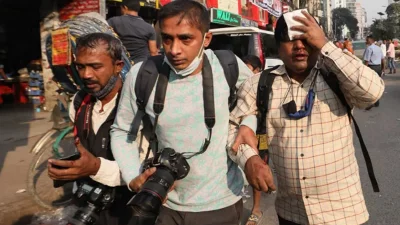 BNP Senior Joint Secretary General Ruhul Kabir Rizvi alleged, "Police personnel attacked the BNP leaders and activists in front of its headquarters. Several BNP men were injured in the attack. Ignoring all attacks, BNP will hold peaceful rally at Nayapaltan on December 10."
DMP DC of Motijheel Zone Hayatul Islam Khan said, "The venue was not fixed for BNP's rally. But, they blockaded the road. Police personnel requested them again and again to clear the road but they did not. At one stage, they locked into a clash with the law enforcers."