The official trailer of Karagar Part 2 was released on December 6 on YouTube. The trailer showcases a spine-chilling storyline and creates another nail-biting situation among the audience.
Chanchal Chowdhury starrer series "Karagar Part 1" was released on the Indian online platform Hoichoi on August 19. The Part 2 of the show is scheduled for release on December 22.
The first part took us on a thrilling journey of Chanchal Chowdhury who suddenly appeared in cell number 145 out of the blue, after 50 years of it being empty. Wth black spots on teeth, and eyes were swollen and bright red, Chanchal's body was filled with sore spots and he couldn't even speak. He tried to say in sign language that he was the murderer of Mirzafar. The first season of prsion ended with the mystery alive.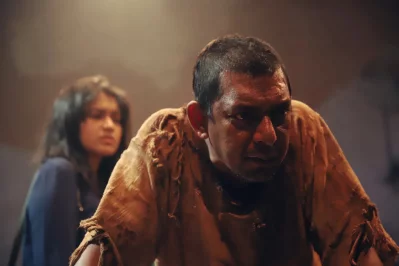 "The second part of the show packs a punch and the trailer just shows a glimpse of it. I have two very different get ups in this part and while I can't reveal much on those characters," said Chanchal Chowdhury.
"With Karagar I wanted to tell a story that seems unbelievable on the surface, but has layers of dark truth underneath. I am glad to see how well the audiences across borders have loved and accepted the show and have been eagerly waiting for the second part, said director Syed Ahmed Shawki.
In the second part, viewers can expect to learn the history of the mystery man (Chanchal Chowdhury), who suddenly appeared in cell 145 out of the blue. Chanchal Chowdhury can be seen sporting a clean-cut look. His hair also seems to be kept longer and he can be seen wearing spectacles.
The thriller is directed by Syed Ahmed Shawki. Alongside Chanchal Chowdhury, the star-studded web series is slated to feature Intekhab Dinar, Tasnia Farin, FS Nayeem, Bijori Barkatullah, Afzal Hossain, Jayanto Chattopadhyay, and AK Azad Shetu among others.