Brazil legend Pele is due to be buried later on January 3rd after thousands of fans waited to pay their respects as his coffin lay in state at the home of his former club Santos.
On Monday, his coffin was placed on the centre circle of the Urbano Caldeira stadium in Sao Paulo, ahead of a private burial on Tuesday.
The three-time World Cup winner has reportedly chosen a burial site on the ninth floor of a nearby cemetery which will allow him to watch over the Santos stadium.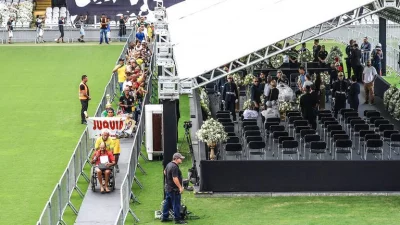 Former Brazil midfielder Ze Roberto and Pele's son Edinho were among those who placed his coffin on the pitch during a ceremony before fans and well-wishers were allowed to pay their respects.
Long queues had formed outside the stadium, with some fans waiting overnight for their opportunity to bid farewell to a player many consider the best to have ever lived.
Brazil's government had declared three days of national mourning after Pele's death last week.
Pele died at the age of 82 on December 29 after a battle with cancer. He scored over 1,000 goals in his career.