Alexis Mac Allister says Argentina's squad are doing all they can to convince Lionel Messi to play at the 2026 World Cup.
Lionel Messi's Argentina team-mates have urged him to reverse his decision to retire from World Cup duty.
The 35-year-old star of his country's triumph in the final against France in Qatar last month stated it was his last World Cup.
But Brighton midfielder Alexis Mac Allister and the rest of the squad still want him around when Argentina defend the trophy in the US, Canada and Mexico in 2026, report several media.
Mac Allister said: "We don't want him to leave the national team. He said he was going to be his last World Cup but we don't want that. We want him to stay with us. He knows it. So let's see what happens.
"He sent a message to us yesterday, wishing us a very good year. He was very grateful to us. After the game we couldn't speak too much because we wanted to celebrate.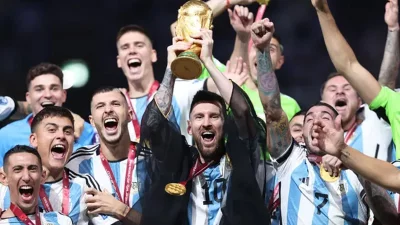 "I think we still don't realise what we achieved, but in the next five or ten years we will."
Mac Allister played a key role in Messi's crowning glory with the assist for Argentina's memorable second goal against France, scored by Angel Di Maria, before they eventually won on penalties.
"He deserves it," Mac Allister said. "It was the only trophy he was missing and now he has it. I'm really glad to be part of this, to help him and the team to get that trophy.