Brazilian soccer legend Pele was buried in his final resting place Tuesday after about 230,000 mourners, including President Luiz Inacio Lula da Silva, filed past his open casket to pay homage.
Crying, waving flags and chanting "1,000 goals!", Brazilians flooded the streets to say goodbye to Pele, widely considered the greatest player in the history of the world's most popular sport.
Before Tuesday's procession began, the coffin of the three-time World Cup winner had been placed in the center circle of the Santos FC stadium for a 24-hour wake.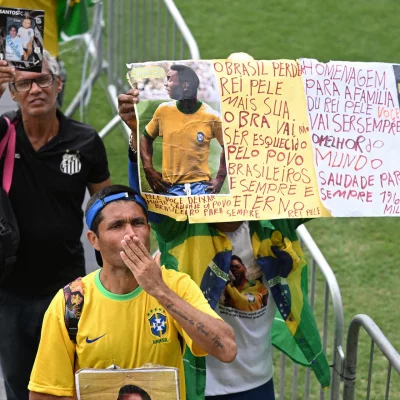 Lula, Infantino pay respects
The recently inaugurated Lula paid his respects at Vila Belmiro, the stadium where Pele played for most of his club career for the Brazilian side Santos.
Also among those at the stadium was Pele's best friend Manoel Maria, a former Santos teammate.
"If I had all the wealth in the world I would never be able to repay what this man did for me and my family," Maria said. "He was as great a man as he was as a player; the best of all time. His legacy will outlive us all. And that can be seen in this long line with people of all ages here."
FIFA President Gianni Infantino has said that every country should name a stadium after Pele. "I am here with a lot of emotion," he said. "Sadness, but also with a smile because he gave us so many smiles. As FIFA, we will pay a tribute to the 'King' and we ask the whole world to observe a minute of silence."
Mass was held at the Vila Belmiro before the casket was driven through the streets of Santos, a coastal city in southern Brazil's Sao Paulo state, in a firetruck.
Hearse stops by mother's house
One of the most moving moments of the day came when the truck paused outside the home of Pele's 100-year-old mother.
Pele's sister Maria Lucia Nascimento — who cares for her mother and revealed Celeste was unaware of her son's death — watched in tears from a balcony and thanked the crowds who chanted "Pele is our king." Celeste turned 100 in November and Pele posted on social media to mark the occasion.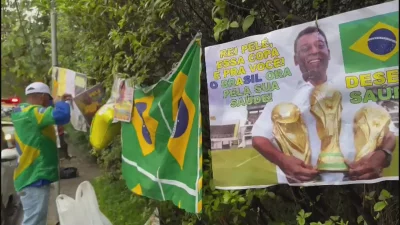 On Tuesday, the soccer great's son, Edson Cholbi Nascimento, addressed mourners by the cemetery as fireworks heralded the arrival of his father's coffin while those gathered sang the Santos anthem.
"I wanted on behalf of the whole family to thank you for all the love, the respect," he said. "It's an honor, it's a great pride. Once again thank you. Now he will rest."
Pele had been treated for colon cancer since 2021. The medical center where he had been hospitalized said he died last week of multiple organ failure related to the cancer.
Pele led Brazil to World Cup titles in 1958, 1962 and 1970.
Current Brazil football star Neymar tied Pele's national team record of 77 goals during the Qatar World Cup.