Cristiano Ronaldo will make his official debut with his new club, Al-Nassr, against Al-Ettifaq at Saudi Professional League on January 22.
The Portuguese star will feature in the friendly match against Paris Saint-Germain and will be in the squad for the Effitaq clash.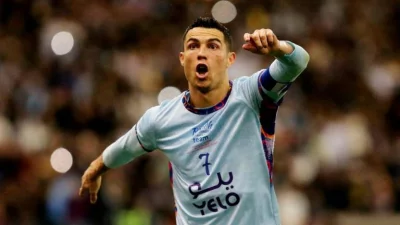 "His debut won't be with the Al Nassr jersey. It will be a mix between Al Hilal and Al Nassr players," Rudi Garcia , manager of Al-Nassr said.
"The entire world is awaiting. All eyes are on Al-Nassr tomorrow. Ronaldo makes his first debut with his club Al-Nassr," tweets Al-Nassr club.
Ronaldo appeared in a most-awaited Riyadh friendly on Thursday as Messi-led Paris Saint-Germain (PSG) beat Riyadh All-Star, which was captained by Ronaldo, 5-4 at King Fahd Stadium.
The five-time Ballon d'Or winner became a free agent in November after cutting ties with Manchester United.