International Cricket Council (ICC) T20 on Wednesday (January 25) named Indian batsman Suryakumar Yadav as the Cricketer of the Year 2022. He became the first Indian cricketer to become the ICC T20 Cricketer of the Year.
Suryakumar said that he felt great upon receiving the title.
Four players were nominated as the T20 Cricketer of the Year in the men's category. Suryakumar went up against the Pakistani wicketkeeper-batter Mohammad Rizwan, England all-rounder Sam Curran and Zimbabwe all-rounder Sikandar Raja.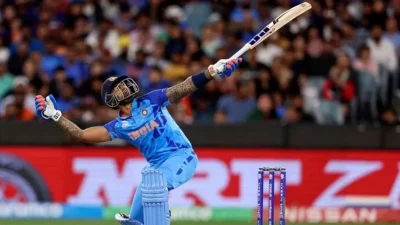 After making his T20 debut in 2021, Suryakumar had a great year. The right-handed batsman scored 1164 runs in 31 matches in 2022. He also scored 1000 runs in one year as the second cricketer in T20 history. He hit 9 half-centuries and 2 centuries.
Surya hit 68 sixes in T20 last year. His batting average was around 46 and strike rate was 187.43. This batsman was at his best with his bat in the T20 World Cup held in Australia last year. He scored 239 runs with 3 half-centuries in 6 innings.