Shah Rukh Khan, Deepika Padukone, and John Abraham-starrer Pathaan emerged as a huge blockbuster with tremendous box office collections worldwide. King Khan made a media presence for the first time after Pathaan's release on January 30. While interacting with the host Anurag Pandey, Shah Rukh and Siddharth talked about the plans to make a sequel to Pathaan.
On day 5, Pathaan crossed the Rs 500 crore mark with its worldwide box office collections. At the event, the trio and the filmmaker were seen showering praises on each other endlessly so much so that Shah Rukh even broke into a bromance and kissed John.
When host Anurag asked Siddharth about his next film with SRK, the director indirectly dropped a big hint taking the opportunity while fans at the event started cheering.
During the first-ever event of Pathaan in Mumbai's Taj Lands End, Pathaan directed said, " Pathaan aayi hai, hit hui hai. Uske baad kya banayege?", fans then screamed, "Pathaan 2" and he responded by saying, " Insha allah".
"It will be honour if they want to do a sequel with me," Shah Rukh remarked.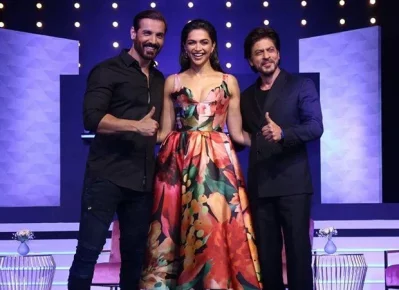 At the event, Shah Rukh Khan spoke about films not offending anyone but entertaining people only, "Whenever we make films, the aim is to spread love, kindness. Even if we are playing bad characters, say things in the film, it isn't intended to hurt any sentiment. Fun and Entertainment should be left at that— don't take it seriously. We love each other and just want to spread love."
"We are all extremely grateful to the audience and media for supporting the film so much in spite of the fact that there might have been things that would have curtailed the happy release of the film. There were times when we had to call people and ask them to please let us release our film peacefully. Film watching and filmmaking is an experience of love and I want to thank all the people who helped us release this film for the people," he said.
"Deepika is Amar, I'm Akbar, John is Anthony. We love you, that's why we make films. Nothing is bigger than this. We have to keep our stories seeped in India. When we tell our stories, we don't deride it. We are just using a language that the young ones speak," while interacting with media Shah Rukh commented.
At the event, Shah Rukh also thanking Salman Khan for making a special appearance in Pathaan.