Indian reality TV star Rakhi Sawant, who recently made serious allegations against her husband Adil Khan Durrani, alleging that he cheated on her and abused her, has now been sent to 14 day judicial custody by Andheri court. In the video, Adil Khan was seen taken in a police van after the court sent him to judicial custody.
While talking to media outside Mumbai`s Oshiwara police station, Rakhi said, "He (Adil) came to beat me at home in the morning, I immediately called the police. He frequently visits my home and gives threats. Even today he came to beat me at home, and I was scared. He said that you defamed me in the media."
Rakhi also claimed that Adil had broken up with her and was living with his alleged girlfriend. Rakhi further stated that she is now going to opt for a divorce as he cheated on her. She said, "Now, I do not want to make any kind of compromise with Adil. I just can`t live with a man who sleeps with so many girls. I wanted him to apologise and leave Tanu (the girl who Adil allegedly cheated with) and come to me. But that person is not loyal. So, I have decided that I have to get a divorce now."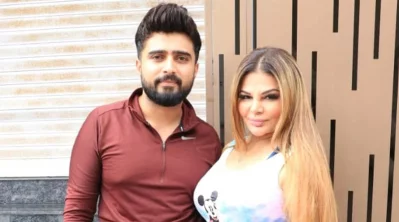 Rakhi`s brother Rakesh also backed the actress and said Adil physically and verbally abused her. "Never thought that he will stoop down to such level. We even forgave two or three times. The next day after the demise of our mother, when we went to Rakhi`s house to feed her, that time we noticed Rakhi`s face is swollen. She was crying, when our relatives asked her then she revealed that Adil has beaten her on the same day our mother passed away," said Rakhi`s brother.
'We have the evidence of Adil's torture, financial fraud, blackmailed Rakhi with videos and are ready to fight the case to any level for getting justice", Rakhi's lawyer told the paparazzi.
While talking to the media outside the Oshiwara police station, Rakhi stated that Adil visited her house on Tuesday morning and hit her. She also revealed that this is the third time she has filed a case against Adil and the police had written a non-cognizable offense against Durrani, which was converted into an FIR on February 6.
Rakhi Sawant and Adil Khan Durrani had a court marriage in July 2022 and announced it on social media in January this year. After her mother Jaya Bheda's demise, Rakhi opened up about the issues in her relationship to the media. Initially, she blamed Adil for her mother's demise and accused him of having an extra-marital affair.
Later, she accused him of domestic violence, embezzlement of funds, performing unnatural sex, and taking away money and jewellery from her flat. She then filed a complaint against Adil and the latter was arrested on February 7.