Bollywood actress Kajol is an avid social media user known for her witty posts and hilarious titbits. The actress, who has been a part of the Hindi film industry for over three decades now, has been at the receiving end of criticism. She has been trolled several times for allegedly getting skin whitening surgery done.
While she always dismissed such reports, netizens often commented that she had gone 'fair' by sharing before-and-after pictures on social media. Recently, she took to her Instagram handle and opened up on the secret of staying fair throughout the years.
In her latest Instagram story, Kajol hilariously replied to nasayers for "questioning her how she became fair" over the years. He posted a picture of himself wearing a black face cover. The actress is also seen wearing black sunglasses. Sharing the photo, she wrote, "For all those who ask how I became so fair. #sunblocked#spfunbeatable (sic)."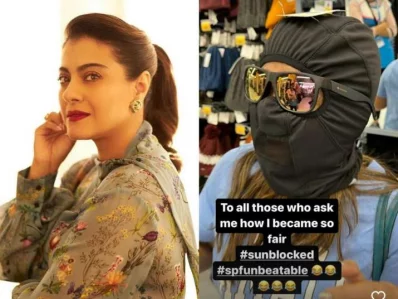 Netizens very often share her before-after picture on the internet to compare.
The actress has finally replied back to the trolls. She posted a picture of her on Instagram where her face can be seen covered, only the portion around her eyes is visible. She wore sunglasses and a face mask. The caption on the photo read: "To all those who ask me how I became so fair. #sunblocked #spfunbeatable."
Previously, the My Name Is Khan actor also responded to the rumours of her whitening surgery. She added: "I have not undergone any skin whitening surgery. I have just stayed out of the sun. For 10 years of my life, I was working all the time under the sun, which is why I got tanned. And now I am not working in the sun anymore. So I've got untanned. It's not a skin whitening surgery; it's a stay at home surgery."