Bollywood actor Nawazuddin Siddiqui finally broke his silence on his showdown with his ex-wife Aaliya. He posted a lengthy letter on his own Instagram account, explaining that his silence has led to him being portrayed as a villain.
The actor's estranged wife has made various charges against him, including that he is absent from his children's lives and that he has kept them locked in his home. Following a lengthy period of silence, the actor responded to the charges on Monday by sharing his official statement.
Nawazuddin wrote about maintaining silence on the matter for the sake of his sanity and to keep his children away from ensuing drama. "People are enjoying my character assassination," wrote Nawaz before explaining his stand on the matter.
He said the media and others on social media are having fun destroying his reputation with biased and edited footage of her wife. Then he went into further detail about his experience and explained his perspective. Now, one of the most controversial Bollywood actor Kangana Ranaut stepped forward in support of Nawazuddin Siddiqui after he broke his silence.
Kangana took to her Instagram Stories and shared, "Was much needed @nawazuddin siddiqui saab… silences does not always give us peace… I am glad you issued this statement."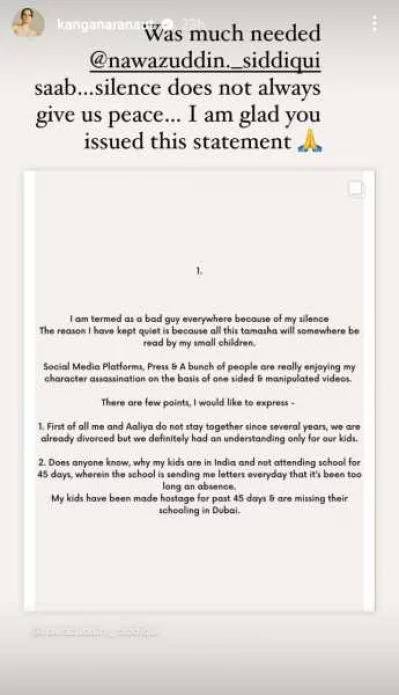 Nawazuddin Siddiqui and Aaliya Siddiqui are currently in the midst of a legal battle. Their ongoing dispute has been the subject of media attention for some time.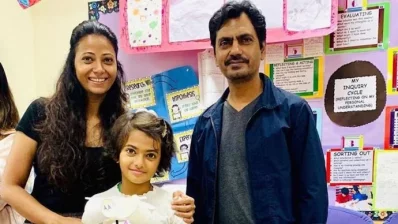 Meanwhile, on the work front, Nawazuddin Siddiqui will next be seen in the film Haddi, in which he will portray a transgender character. The film is scheduled to release later this year.