Popular dhallywood actress Mahiya Mahi was arrested from Hazrat Shahjalal International Airport on Saturday morning in a case filed under the Digital Security Act (DSA).
Police arrested her around 11:45 am while she was returning from Saudi Arabia after performing Umrah, said Gazipur Metropolitan Detective Branch deputy commissioner Md Kamal.
Gazipur Metropolitan Police Commissioner Molya Nazrul Islam confirmed this information.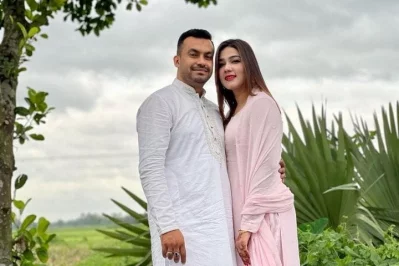 On Friday night Gazipur Metropolitan Basan Police Station Sub-Inspector (SI) Md. Rokon Mia filed a Digital Security Act case against Mahia Mahi and her husband Rakib Sarkar on charge of 'defaming police' after going live on Facebook and alleged involvement in extortion and assaulting a businessman
Mahia Mahi along with her husband Rakib Sarkar recently went to Saudi Arabia to perform Umrah Hajj. From there, on Friday morning, she came on the social media Facebook Live and complained about the attack and vandalism at he husband Rakib Sarkar's car showroom.