The latest report from the Intergovernmental Panel on Climate Change is a stark reminder that time is running out to change course. But it confirms the tools are there to make it happen.
Rising temperatures, natural disasters and irreversible ecosystem degradation are becoming increasingly life-threatening for humans and nature all over the world, top scientists warned in a major new report released Monday by the UN's Intergovernmental Panel on Climate Change.
Efforts made so far to avoid passing a dangerous global threshold have been "insufficient to tackle climate change," but multiple options are still available.
"Mainstreaming effective and equitable climate action will not only reduce losses and damages for nature and people, it will also provide wider benefits," said IPCC Chair Hoesung Lee. "This Synthesis Report underscores the urgency of taking more ambitious action and shows that, if we act now, we can still secure a livable sustainable future for all."
"Today's IPCC report is a how-to guide to defuse the climate time-bomb," said UN Secretary-General Antonio Guterres. "It is a survival guide for humanity. As it shows, the 1.5-degree limit is achievable. But it will take a quantum leap in climate action."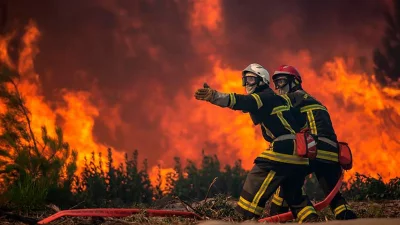 The fundamental message of all the IPCC's reports is unequivocal. "Without urgent, effective, and equitable mitigation and adaptation actions, climate change increasingly threatens ecosystems, biodiversity, and the livelihoods, health and well-being of current and future generations," said the report, compiled by 93 authors.
Humanity has drastically altered the planet in just a few centuries, with responsibility for climate change linked to the burning of coal, oil and gas. At no time in the past 2 million years have CO2 concentrations in the Earth's atmosphere been as high as they are today.