Popular dhallywood superstar Shakib Khan and actress Shobnom Bubly starrer film 'Leader: Ami-e Bangladesh' will be released in theatres at home and abroad on the occasion upcoming Eid-ul-Fitr.
Production house Bengal Multimedia Ltd confirmed the news.
Written by Delwar Hossain Dil and directed by Topu Khan, the film has been produced by Syed Ashik Rahman under the banner of Bengal Multimedia Ltd.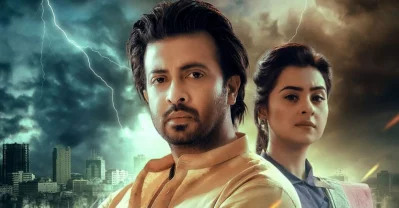 About the release of the film, Bengal Multimedia CEO Syed Ashikur Rahman said, "We will release the film on the occasion Eid-ul- Fitr. The film was supposed to be released on last Eid-ul- Azha but we have taken time to give a quality movie to the audience. Now, we are ready to release the film on the next Eid festival. 'Leader: Ami e Bangladesh' is the Eid gift to the audience."
"It is my debut film as a director. I'm very happy that I have completed my task for the film properly. Shakib Khan, Bubly and others of the film have helped me various way. I hope the audience will enjoy a wonderful movie during Eid festival," said Director Topu Khan.
Apart from Shakib and Bubly the film also features Misha Sawdagar, Shahiduzzaman Selim, Subrata, Samu Chowdhury, Masum Bashar, Mili Bashar, Preeti, Remu Reza Khandaker, Simanta among others.