After weeks of speculations around Indian actress Parineeti Chopra and politician Raghav Chadha's wedding, reports claim that the two are set to exchange rings in an intimate ceremony later this week.
As per a report by Hindustan Times, Parineeti Chopra is all set to get engaged to Raghav in the first week of April. The couple will reportedly make their relationship official after this intimate ring ceremony in Delhi.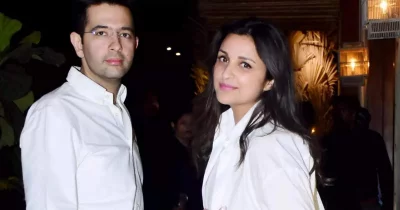 Reports state that Parineeti has already reached Delhi, and a source reveals to the Hindustan Tims that, the actress is overlooking the preparation of the ceremony personally. A few days back, Raghav was spotted and snapped at the Delhi airport as he arrived to pick up Parineeti.
So far Parineeti Chopra and Raghav Chadha have remained mum about their relationship. A source close to the couple has said that the engagement ceremony will be a closed affair. "There will be only family members and very close friends from their circuit. The moment to get engaged seemed perfect with Priyanka Chopra also coming to India with her husband Nick Jonas and Malti Marie. They also planned their India trip in a way that they can make it to the ceremony. In addition, her cousin sister Meera Kapoor has also reached Delhi for the ceremony. It is also because everyone has such a busy schedule, and Parineeti and Raghav are happy to take their relationship to the next level in presence of their family."
The rumours spread further when AAP MP Sanjeev Arora congratulated Parineeti and Raghav on their "union." He tweeted, "I extend my heartfelt congratulations to @raghav_chadha and @ParineetiChopra. May their union be blessed with an abundance of love, joy, and companionship. My best wishes!!!!" Sanjeev also added two pictures of Raghav and Parineeti with his tweet.
The source also stated that the two have been dating for a while and it is only now that they have been spotted in public together.
Prior to this, Parineeti was also spotted at designer Manish Malhotra's home. Fans wondered if the actor was preparing her wedding outfit with Raghav. Manish recently designed the outfits for actors Kiara Advani and Sidharth Malhotra's wedding in Jaisalmer, Rajasthan in February.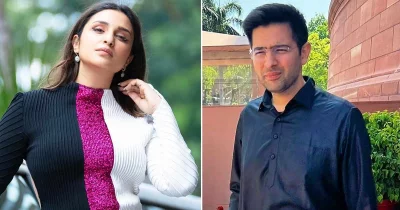 While the rumors of wedding are circulating, Parineeti's old interview is making rounds which was recorded during her recent film promotions. The actress clearly said that a politician won't be her first choice for a husband.
In an interview with Bollywood Hungama, the actress had said, "The problem is I don't want to marry any politician. There are too many good options but I don't want to marry any politician ever. He should be funny, he should smell really good and he should respect me. My love for travel, love for water, the ocean, diving, whatever, and they should just be a self-made person. I love men who have self-worth, who have made their lives themselves."