Bollywood superstar Salman Khan marked his return to the silver screen on Eid with a familial feast titled Kisi Ka Bhai Kisi Ki Jaan. The actor poked fun at his own love life in an upcoming episode of Rajat Sharma's Aap Ki Adalat.
In a promotional video shared by the channel, Salman can be seen relaxed and candidly speaking about his love life as host of the show Rajat Sharma grills him for his non-committal attitude towards women.
To which Salman responded with a laugh as Rajat posed the question and just said, "Unlucky in love, sir."
In another part of the promo, the host asked, "Who is your jaan these days? Who are you committed to?" to which the actor replied saying "Sir, I am just bhai these days."
As the crowd roared with laughter, the added, "The one I wanted should call me jaan, she is also calling me bhai. What do I do?"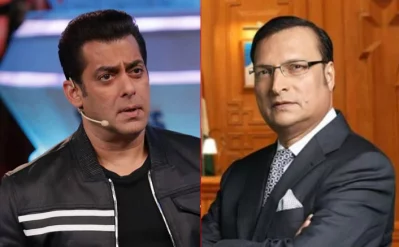 Salman said that he has been trying to move on from one person for years now.
The episode will air on Saturday on India TV. Khan has made a few appearances on Sharma's show in the past.
Recently, the host was also photographed at the Bajranggi Bhai Jaan actor's Eid party.
This will be Salman's second time on the show since 2019.