Bollywood Ranbir Kapoor talks about the possibility of a sequel to his most-loved film Yeh Jawani Hai Deewani.
Directed by Ayan Mukerji, Yeh Jawani Hai Deewani was a blockbuster hit when it was released in 2013. Four old friends reunite and embark on a self-discovery adventure while travelling through the Himalayas in this coming-of-age story. The film received accolades for its stunning settings, energetic music, and heartfelt performances by the main characters.
Ranbir, while talking to Indian Express, revealed that director Ayan Mukerji had an idea regarding the sequel but he then he got occupied with Brahmastra.
The actor quoted: "Ayan also had a very nice story, I remember, but then he went into this Brahmastra journey. But, never say never. He might make it after a couple of years."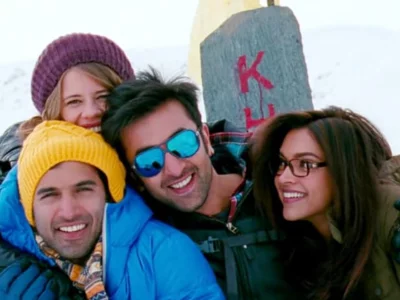 The actor also told Indian Express what the plot of the movie would be and he said, "I think the story will be 10 years forward where Bunny, Naina, Avi and Aditi, where they are in their lives. I think it'll be quite interesting and nice to explore those characters."
This isn't the first time that there's conversation around a sequel to the movie as the actor had also spoken about it back in 2018. He also mentioned how Ayan often said that they should've just made a 'Yeh Jawaani Hai Deewani' sequel as it would've been easier.
He revealed: "Ayan is on the journey to make Brahmastra, which is very time-consuming. But we have often spoken about Yeh Jawaani Hai Deewani 2."
Apart from Deepika and Ranbir, Yeh Jawaani Hai Deewani also starred Aditya Roy Kapur and Kalki Koechlin. Whether all of them will unite for the sequel is yet to be seen, but it won't really be a proper sequel or reunion with either of them missing. But we'd surely love to see some new characters as well!