Alia Bhatt, who often speaks about her daughter Raha, recently revealed that the best thing that has ever happened to her in life is when Raha touches her face.
During an interview with Harper Bazaar Arabia, Alia was asked about the best thing that happened to her this week. "My daughter started touching my face. I think that's the best thing that's happened to me this past week. Because now when I'm feeding her, she just takes a minute, looks up at me and starts touching my face. It's like a romantic moment between the two of us. And it's literally the best thing that's ever happened to me in my life," she replied.
In the same interview, Alia revealed ever since she became a mother, she has grown into a more patient person. "Every day is a new day with my daughter, and every day is a new day experiencing a new gesture or a new expression. I keep saying the most important thing I've learned is patience. I've always been a very impatient person, and if it's possible, I became even more impatient over time."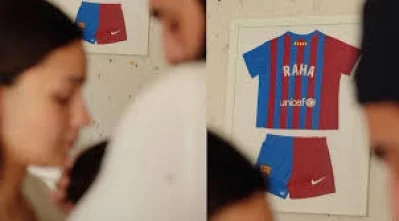 The Gangubai Kathiawadi actress also said, "But I think having a baby and motherhood definitely gives you a sense of stillness, a sense of calm. I mean, it's so highly demanding from the very beginning. It can be extremely overwhelming. But if you just go through it with patience, it really gives you a lot of inner strength."
Alia recently made her debut at the Met Gala in New York, where she shared in a behind-the-scenes video that it was the longest she had ever been away from Raha, almost four days.
For the unversed, last year, Ranbir Kapoor and Alia Bhatt were blessed with an baby girl Raha and shared this happy news with the world.