Actor Parineeti Chopra got engaged to politician Raghav Chadha in Delhi on Saturday in a private ceremony, attended by family members and political leaders.
Raghav and Parineeti shared the news on their Instagram pages, posting several photos from the ceremony.
"Everything I prayed for .. She said yes!" wrote the 34-year-old Rajya Sabha MP.
Parineeti's caption read, "Everything I prayed for... I said yes! Waaheguru ji meher karan..." while Raghav wrote in the caption, "Everything I prayed for .. She said yes! Waaheguruji meher karan..."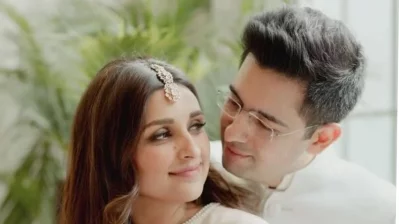 The couple exudes vibes as they lean on each other in most of the frames. In the first frame, Raghav is holding Parineeti by her waist, while Parineeti leans her head against Raghav's cheeks. In the second frame, the couple poses for a cosy frame. In the third frame, Raghav is looking at Parineeti, while the latter is looking at distance. The fourth frame shows the engagement rings from close-ups.
Parineeti opted for a Manish Malhotra lehenga for her special day while Raghav looked handsome in a Pawan Sharma sherwani. Their outfits were in tandem with the pastel theme of the ceremony.
Both Parineeti and Raghav wore white, and the last picture in her post was a close-up of their hands, intertwined.