Sri Lanka's sports minister suspended controversial regulations on term limits on administrators and allowed the cricket board to re-elect its office bearers Saturday, avoiding a possible international ban.
Board officials said they and the minister reached a deal after reports Sri Lanka risked suspension by the International Cricket Council (ICC) over alleged political interference.
"The minister agreed not to invoke regulations he gazetted in December," Sri Lanka Cricket Secretary Mohan de Silva told AFP, adding a court action against the politician had been withdrawn.
Sri Lanka Cricket is the crisis-hit country's richest sporting body but has been embroiled in controversy since the South Asian nation won the World Cup in 1996.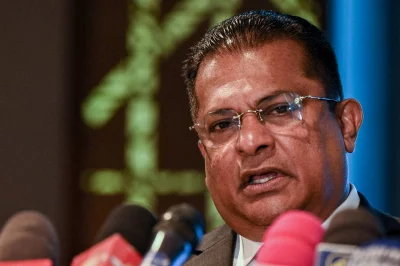 It has about $40 million in reserves and wants to build that to $100 million in two years.
It has seen graft allegations against both players and administrators, and in 2018 the then sports minister Harin Fernando said the ICC ranked it among the most corrupt cricketing nations.
With the withdrawal of the sports ministers' regulations, board president Shammi Silva was elected uncontested for a third two-year term.
The ICC sent its deputy chairman Imran Khwaja to Colombo last week, who met with both Sri Lanka Cricket and sports minister Roshan Ranasinghe, but the governing body has not disclosed the outcome of what it called his "fact-finding mission".
Rugby's world governing body banned Sri Lanka on Wednesday following similar allegations of political interference by the minister.