Bollywood star Aamir Khan and popular comedian Kapil Sharma spent a wonderful evening together at the former's residence on May 31st.
The Kapil Sharma Show is one of the most loved talk shows, but Aamir Khan has never graced the show. Recently, Aamir and Kapil Sharma attended the trailer launch of the Punjabi film, Carry On Jatta 3. At the event, Aamir asked Kapil the reason behind not inviting him to his show.
"And I'm sorry, but aapne kabhi mujhe show pe kyun nahi bulaya yaar... I figured I'd say it first before he asks," Aamir added, sending everyone into fits of laughter. Kapil said that despite numerous attempts, he was unsuccessful in persuading Aamir to join him. "I've always run into Aamir at events and crowds. He declined my repeated requests for him to participate on the programme because of other commitments, he claimed.
Amir Khan acknowledged that he has recently emerged as one of Kapil Sharma's most ardent fans. The actor admitted that since he has been off the clock and watching an episode of The Kapil Sharma Show every night, he has become a fan.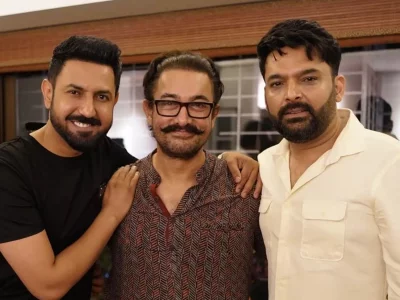 "I have been doing lesser work and spending time with my family so every evening, I enjoy watching something that has comedy in it. Every night, I watch something before sleeping and in the last few months, I have been watching Kapil's show. I have become such a big fan of him. You would have noticed that I was having the biggest smile when he walked on stage," Aamir said, while speaking at the trailer launch event.
"He has made so many of my evening colourful, I have laughed a lot. I called him a few weeks ago and told him, 'Thank you so much, you entertain people so much, it is such a big task, to cheer people up.' So I am so happy to see you here and I'm one of your biggest fans, Kapil," Amir added further.
Taking it to his Instagram, Kapil shared two pictures featuring him, wife Ginni Chatrath, and Aamir. The pictures that he posted were all smiles.
Kapil wrote in the caption: "Thank you for the wonderful evening, beautiful hospitality, love, laughter, music, what a beautiful n memorable get together it was, thank you #Aamirkhan bhai you're our pride #aamirkhan."
Amir Khan was also seen performing bhangra with Gippy Grewal at the trailer launch event of 'Carry On Jatta 3'.