Bollywood actress Kangana Ranaut, who is known for her controversial statements, is at it again. The actress has now made a subtle jab at rumours that Ranbir Kapoor will play Lord Ram in director Nitesh Tiwari's next Ramayana adaption.
Reports suggest that Alia Bhatt and Ranbir Kapoor are set to portray Goddess Sita and Lord Ram, respectively, while South actor Yash is in talks to essay the role of Raavan.
Kangana, who will herself be playing Sita in an upcoming film, The Incarnation: Sita, criticizes the casting decision and questions the suitability of the chosen actors. She calls Ranbir Kapoor 'a skinny white rat'.
In the Instagram Stories, she wrote, "Recently, I am hearing news about another coming up Bolly Ramayana... Where a skinny white rat (so-called actor) who desperately needs some sun tan and conscience he is infamous for doing nasty underhand PR about almost everyone in the industry... known for womanising and drug addiction after desperately trying to prove himself Lord Shiva in a trilogy (which no one watched or want to make more parts of) has now grown fancy to be Lord Rama..."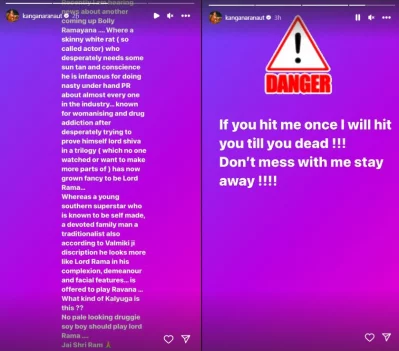 In the midst of this controversy, Kangana Ranaut continues to be busy with her upcoming projects. She is set to make her solo directorial debut with the film Emergency, which revolves around the life of former Prime Minister Indira Gandhi. In the movie, Kangana will portray the titular role of the late politician. Additionally, she has several other films in the pipeline, including Tejas, Chandramukhi 2, Manikarnika Returns: The Legend of Didda, and The Incarnation: Sita.