The recently discovered Covid-19 variant is fuelling a new surge of Covid-19 cases across the world. No wonder it's triggering our muscle memory of 2020's bleak midwinter and, in turn, dialling the fear factor up once more.
Earlier reports, however limited, indicate that Omicron variant infections may differ just slightly from cases experts have seen stem from the spread of Delta and other earlier variants that were of concern in 2021.
In South Africa, where the first instance of Omicron infections were reported, the nation's Medical Research Council shared testimony that the majority of patients impacted by Omicron infections didn't require ventilators or emergency oxygen to breathe while in treatment.
Symptoms of the omicron COVID-19 variant
Over 50% of people have no classic symptoms at the moment. Unfortunately, the consensus seems to be that any cold or flu-like symptom - including really generic ones such as nasal congestion and headache - may, in fact, be the Omicron variant,' Dr Jennifer Rohn, cell biologist at University College London, tells WH - adding that the same could be said of symptoms caused by the Delta variant.
It does seem that Omicron symptoms may be more mild — issues like scratchy throat, fatigue or headache — compared to more severe symptoms such as fever and respiratory failure. But these symptoms also depend on your vaccination status, age, comorbidity conditions and history of natural infections.
Fatigue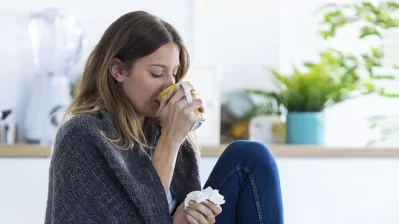 Similar to earlier variants, COVID's Omicron may lead to fatigue or extreme exhaustion. A person may feel overtired, experience low energy and may have a strong desire to rest, which can disrupt everyday activities. However, it is important to note that fatigue may arise out of other reasons and health problems too. Make sure to get yourself tested to confirm your condition.
'Scratchy' throat
As per the South African doctor, Angelique Coetzee, individuals infected with the Omicron complained of "scratchy" throat rather than sore throat, which is unusual. While the two may be similar to an extent, the former may correlate more with irritation of the throat while the latter is more painful.
Mild fever that goes away on its own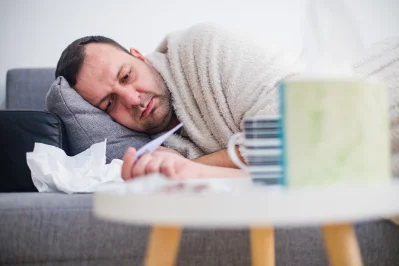 Since the onset of novel coronavirus, mild to moderate fever is one of the tell-tale signs of COVID-19. But while fever from previous strains had a lingering effect on the patients, the current variant induces mild body temperature that gets better on its own, as per Dr. Coetzee.
Night sweats and body ache
In another update by South Africa's Department of Health, general practitioner doctor Unben Pillay listed down the symptoms patients were experiencing.
He suggests that night sweats could be telling symptoms of the new Omicron variant that may arise at night. Night sweats occur when you sweat so profusely that your clothes and bedding become wet even if you're laying down in a cool area.This, according to the doctor, could be accompanied by other symptoms including "lots of body pain."
Dry cough
Apart from that the doctor suggested that dry cough may also surface in people suffering with Omicron. It was one of the most common symptoms in previous strains as well. Dry cough is when you force out a hacking sound to clear any irritation in the throat of airways.