A training program on disaster journalism was held in Turkey with media representatives from 16 countries including Bangladesh.
The program was held in Ankara, the capital of Turkey, from July 16 to 22, as a joint initiative of the Turkish Cooperation and Coordination Agency (TIKA) and Turkey's state media Anadolu Agency. The objective of this training was to enhance the skills of news reporting and presentation of any disaster.
Senior Producer of ATN News, Farque Azam participated in this training as a representative of Bangladesh. He participated in the discussion and question and answer sessions of various events during the training program.
Organizers said that the intensity of disasters is increasing worldwide. As a result, the need to produce accurate reports and awareness programs has also increased. In addition to maintaining ethical standards as a journalist, caution must be taken while reporting any disaster. They also mentioned that journalists have to play an essential role in maintaining the psychosocial stability of communities before and after the disaster. In addition, it is necessary to have an understanding of first aid as part of dealing with emergency situations or rescue operations during disasters.
In a training session, journalists from Turkey described the terrible experience of recent earthquakes and natural disasters. Meanwhile, journalists from disaster-prone countries were encouraged to strengthen good relations by exchanging experiences.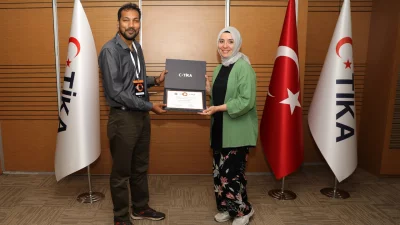 ATN News journalist Farque Azam said that, 'It was a wonderful experience to participate in such international training. In Bangladesh, we face various disasters every year. We do not have the ability to prevent natural calamities; but with proper preparation, we can mitigate their damage. We media workers can play a responsible role in this regard. That is what is discussed in detail in this training workshop.
Farque Azam is currently producing a weekly TV show named 'Nirman Roshayon'. Through the show, various awareness issues are highlighted including ways to build earthquake-resistant structures, fire safety of buildings, responsibilities of architects and planners to deal with climate change, the role of mass people, etc.
The Turkish Cooperation and Coordination Agency (TIKA) has been working with the Bangladesh government since 2014 on various projects related to education, health, food, and housing. This year, they invited journalists from other countries including Croatia, Kazakhstan, Kyrgyzstan, Kosovo, Senegal, and Somalia to this training program.