Prime Minister Sheikh Hasina today said no one raised the issue of caretaker government (CG) during her recent visits to the US and the UK.

"No one talked about caretaker government. There was no talk on the CG system with anyone. No one asked me about it...," she said in a press conference at the Ganabhaban, replying to a query regarding her meeting with US National Security Adviser Jake Sullivan and others.

The press conference was organized to brief the media about the Prime Minister's visit to the United States and the United Kingdom. She attended the United Nations General Assembly (UNGA) session and other events during the visit.

Referring to the bitter experiences during the 2007-08 CG, she said, "Can anyone want it?"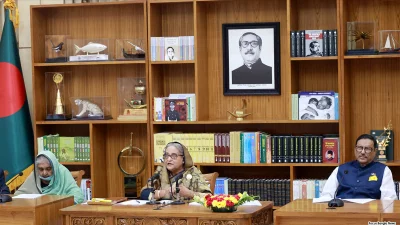 Sheikh Hasina, also the President of ruling Awami League, said: "This system (CG) has been destroyed by BNP."

"So, no such talks about the CG took place (with anybody)," she added.

The Bangladesh premier had a meeting with Jake Sullivan last week in Washington. Last month, she had a fruitful pull-aside meeting with President Joe Biden and took selfie on the sidelines of the G20 Summit in New Delhi.