Prime Minister Sheikh Hasina today inaugurated the Dhaka-Bhanga section of the rail link between Dhaka and Jashore through the Padma Bridge.
She opened the rail route unveiling a plaque by pressing a button at the digital method at a civic rally at Mawa Railway Station in Munshiganj this morning as PM's younger sister Sheikh Rehana was present.
"It is the day of fulfilling the dream to cross the Padma River by train," the prime minister said before inaugurating the rail service.
She said they have a target to link Bangladesh railway with the Trans Asian Railway.
"We're working to this end," she added.
Commercial train services on the rail route will begin within a short time, sources said.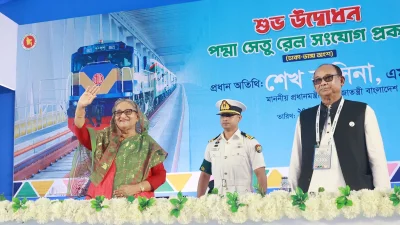 Once the rail link becomes fully operational, it will save travel time between Dhaka and Jashore by half, help make a major boost to the country's railway connectivity.
The rail link will contribute significantly to the country's economy, as 64 districts of the country will be brought under the railway network in phases.
On September 7, the trial run of a special train on the Dhaka-Bhanga route through the Padma Bridge was completed.
Presided over by Railways Minister Md Nurul Islam Sujan, the programme was also addressed by Chief of Army Staff General S M Shafiuddin Ahmed, local lawmaker (Munshiganj-2) Sagufta Yasmin Emily, Chinese Ambassador to Bangladesh Yao Wen and Railways Secretary Dr Md Humayun Kabir.
Chairman of the Parliamentary Standing Committee on Ministry of Railways ABM Fazle Karim Chowdhury and Director General of Bangladesh Railways Md Quamrul Ahsan were present on the dais.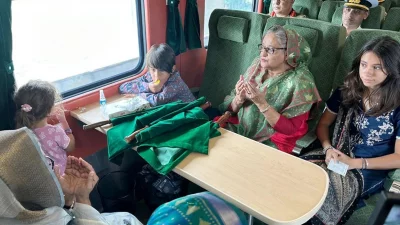 A video documentary on the railway link between Dhaka and Jashore was also screened on the occasion.
After attending the civic rally that turned into a human sea at Mawa in Munshiganj, the prime minister is scheduled to take a ride on the special train by purchasing ticket to reach Bhanga in Faridpur via Padma Bridge.
Sheikh Hasina, also President of the ruling Awami League (AL), then will attend a grand rally at Dr Kazi Abu Yusuf Stadium at Bhanga organized by the Faridpur district unit of AL.
Later, the premier will leave Bhanga for her ancestral home at Tungipara in Gopalganj where she will pay rich tributes to Father of the Nation Bangabandhu Sheikh Mujibur Rahman by placing a wreath at his mausoleum.
After staying a night in her Tungipara residence, she will leave Gopalganj for Dhaka at Wednesday noon and scheduled to reach her official Ganabhaban residence in the afternoon.
Bangladesh Railway is constructing the 172km-long new rail tracks from Dhaka to Jashore under Padma Bridge Rail Link Project as its 82km part connecting Dhaka and Bhanga is opened today while the remaining portion connecting Jashore is likely to be launched in June next year, the project details said.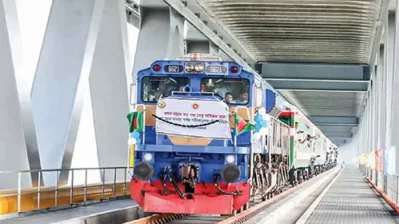 Dhaka-Bhanga rail service via Padma Bridge is inaugurated one year and two months after opening the landmark Padma Bridge in June last year.
On October 14 last year, the prime minister inaugurated the construction work of the rail link between Dhaka and Jessore under the 'Padma Bridge Rail Link Construction Project' as the project cost is estimated at Taka 39,246.80 crore while Exim Bank of China is providing Taka 21,036.70 crore as loan.
Upon completion, the railway connectivity will improve accessibility to the capital city with central and southwestern regions of the country through Padma Bridge, covering new areas of Munshiganj, Shariatpur, Madaripur and Narail districts.
The project will establish alternative railway connectivity linking Dhaka-Jessore-Khulna with 212.05 km shorter route.
It will also establish another sub-route of Trans-Asian Railway Network in Bangladesh and introduce national, regional and international freight and BG container train service as this route will be free from speed and load restrictions for carrying containers.