The five-day Sharadiya Durga Puja, the biggest religious festival of the Bangalee Hindu community, is being celebrated for the second day today with offering Maha Saptami puja at different temples and makeshift mandaps across the district including the town amid due religious fervor, pomp and décor.

Maha Saptami puja was held this morning at temples followed by offering of Anjali to Goddess by devotees who kept fasting till the puja. Later, prashad (food and water offered to a deity during worship), was distributed among the devotees.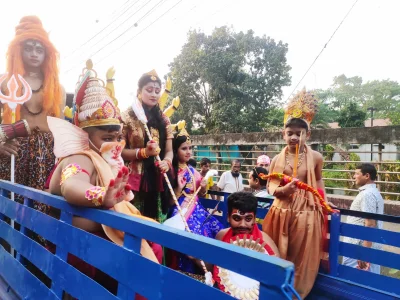 Nabapatrika, nine plants including a banana tree tied together and wrapped in a white sharee with red borders, were bathed in the water of nearby rivers or ponds (the holy Ganges) and later placed next to Lord Ganesha, a Hindu deity, son of Devi Parbati (Durga) and Lord Shiva, worshiped along with Goddess Durga during this Sharadiya Durgotsab.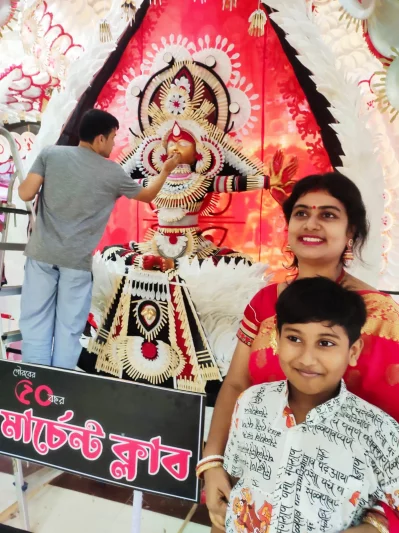 Bangladesh Puja Udjapan Parishad's Sherpur district unit President Subrata Dey Bhanu said Durga Puja is being celebrated at 157 temples and mandaps across the district including 72 in the Sadar upazila and 58 in the district town.

District administration distributed 78 tonnes of rice among the temples as each temple gets 500 kilograms marking the festival, said District Relief And Rehabilitation Officer SM Al-Amin.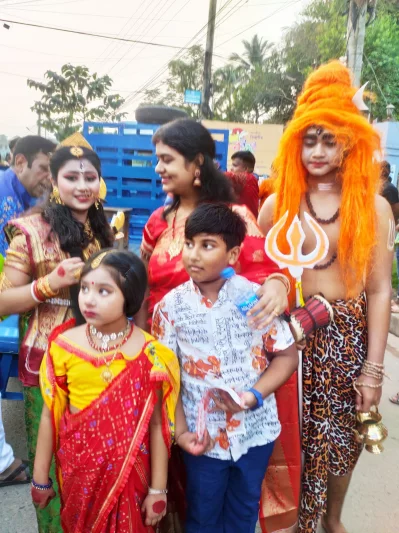 Of the five upazilas in the district, puja is being held at 36 temples and mandaps at Nalitabari, 20 in Nakla, 12 in Sribardi and 18 in Jhenaigati apart from 72 in Sadar upazila.
The annual five-day Sharadiya Durgotsab commenced with Kalparambho on Friday morning followed by Adhibash, Amantran (invitation) and Bodhon (incarnation) in the late afternoon on that day.